How to Find a Marketplace to Sell Your Designs
Original Source: http://feedproxy.google.com/~r/1stwebdesigner/~3/LE91ulWwzf8/
Once you have finished your batch of logos, website design, or whatever creative work you made, you need a marketplace to sell it on. There are a vast number of websites out there for you to choose from.
Selling your designs is a very easy way to make some extra money and to expand your brand. Whether you are an illustrator, 3D artist or logo maker, there is a demand for your creative work.
There is no longer a need to build your own website to sell designs. Now, it is easier than ever to list your work on ecommerce websites to help you reach thousands (if not millions) of people. This article will help you find the one that best suits your needs.
Creative Market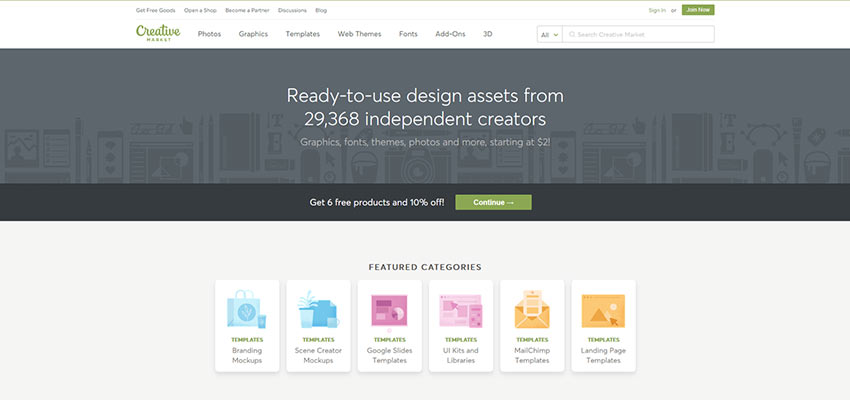 "Empowering creators to make a living doing what they love" is a phrase that Creative Market uses to describe what they offer and this holds very true. Creative Market has a network of about 5.9 million potential customers that could be interested in purchasing your work.
This marketplace is used to sell graphics, WordPress themes, stock photos, and many other digital goods. There are many success stories from sellers using Creative Market to sell their goods and making a lot of money doing so. Stories such as Nicky Laatz, a South African shop owner, who has earned more than $1,000,000 selling her work on Creative Market.
Envato Elements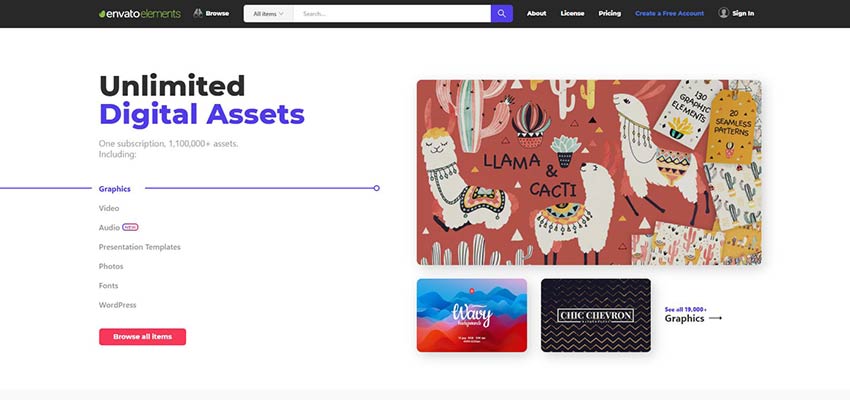 Envato Elements is a digital marketplace that allows creators to sell multiple digital goods such as graphics, fonts, WordPress themes, web templates and photos – along with many more digital items.
The company believes in supporting independent designers and that when the community succeeds, the company succeeds. With this belief they share an even 50% of the net revenue with their designers and sellers. This marketplace is driven exclusively by the community of designers who sell their work with them. Envato Elements is a great way to get paid for your creative work.
DesignCuts
DesignCuts is a digital marketplace that is driven by the community. They are very selective in who they allow to sell on their marketplace. Taking a visit to their website, you will see the quote "We're very exclusive and work with only the best designers in the world, curating the highest quality marketplace around."
This means it is tough to become a seller on their marketplace. But once you do, you will be part of a small group who has access to a large share of potential customers.
The Hungry JPEG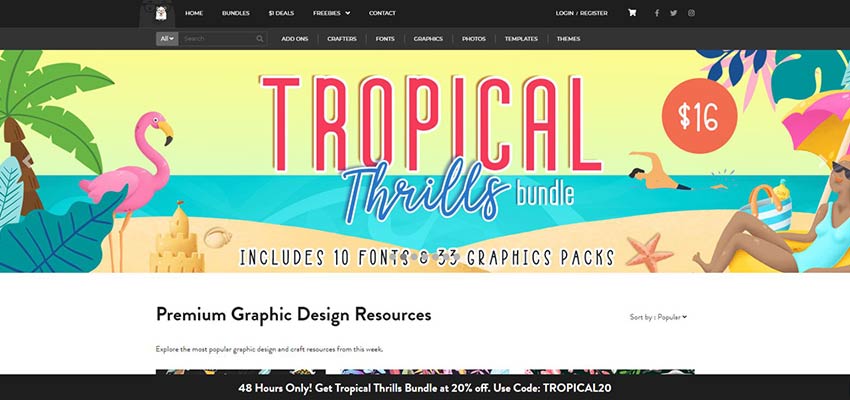 The Hungry JPEG began in late 2014 as a website to help designers and crafters navigate the design world. By mid-2015, they launched a shop to give designers a way to make money from their craft.
They offer a wide range of products, from handmade goods to website templates. If you choose to sell on The Hungry JPEG, you will earn 70% of every sale you make – one of the highest numbers of all the websites on this list.
Also, they do not ask for an exclusivity deal – meaning you can list your products on their website and any other websites of your choosing. They also offer an automated product delivery system so your items are always selling, even when you are away.
YouWorkForThem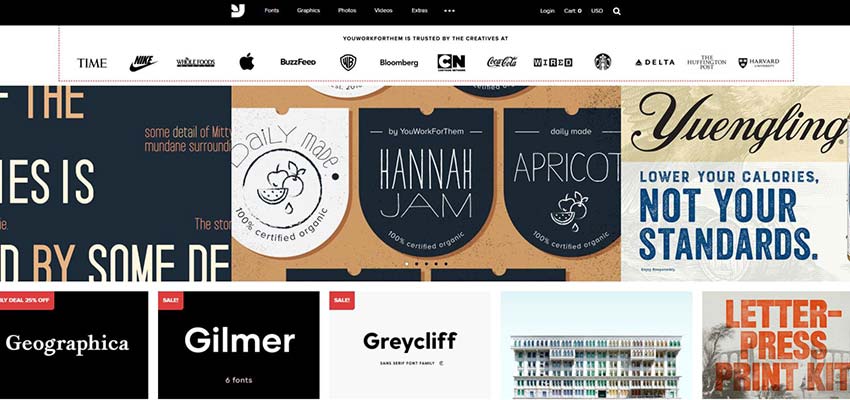 YouWorkForThem has been around since 2001 and is one of the oldest online marketplaces. They are privately owned and run by a group of designers who know what is best for the designer.
They are used by many major brands such as Nike, Coca-Cola, Whole Foods Market, Starbucks, Amazon, Samsung and many others. YouWorkForThem splits the profits 50/50 with all the designers who sell fonts and stock art. On top of that, they will market your designs on their social media outlets, like Facebook and Twitter, that have a combined audience of nearly 80,000 people.
Etsy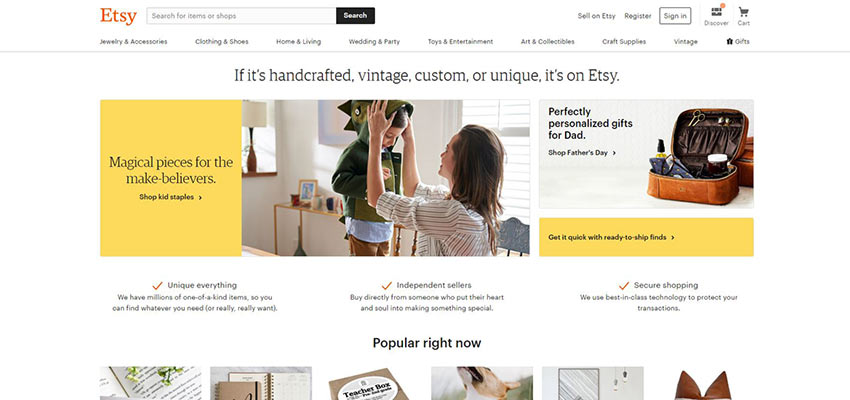 Etsy is one of the largest global marketplaces around. With a concentration on handmade goods, jewelry, and clothing, you can also find digital goods such as website designs.
They are also one of the easiest places to sell your work, but this ease and large user base also creates more competition. Etsy does offer affordable ways to list your work with prices as low as $0.20. With the many tools that Etsy provides, it is very possible to become a successful seller on their website.
Society6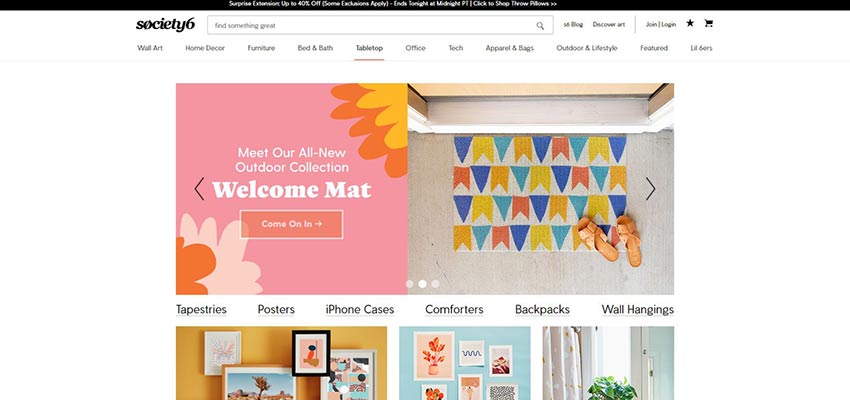 Society6 is very similar to Etsy in that it focuses on selling handmade crafts and goods. Their market mostly consists of artwork that goes on products like mugs, phone cases, and t-shirts. This is the place to get your work in front of thousands of people and a network that grows every day.
Template Monster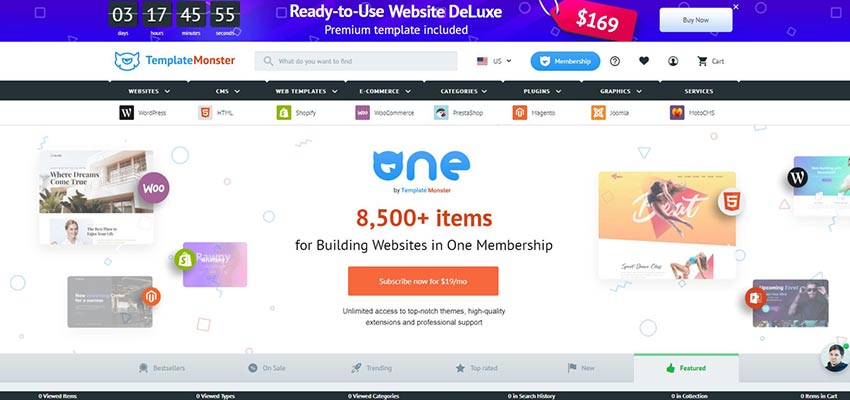 Template Monster has been in business since 2002 and from the get-go they changed the way websites are built. They specialize in offering web templates and other related digital goods.
You'll find WordPress themes and plugins, CMS templates, fonts, and illustrations along with many more digital products to sell and buy. Every month they add nearly 400 new products in all the categories mentioned above.
They also offer 24/7 customer support for sellers and buyers, making it easy to handle any problems you may come across when using their marketplace.
Big Cartel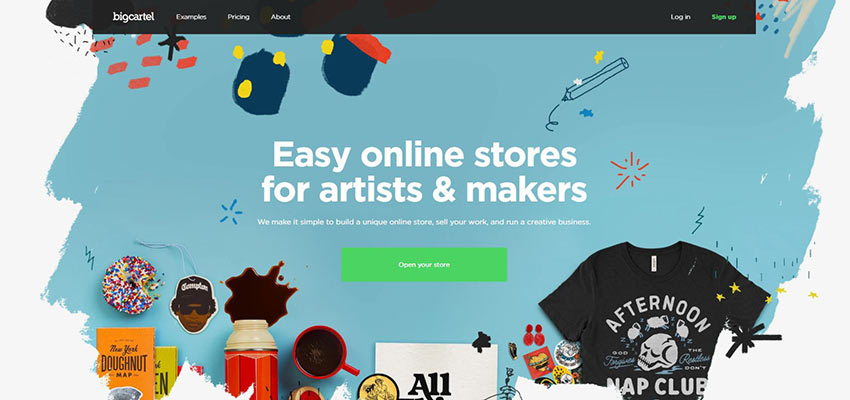 Big Cartel has been around for 14 years and in that time, they have helped artists sell over $2.5 billion in creative work. They enable sellers to create their own store with many customizable features to make the experience as personal as possible.
The freedom they allow you to have with selling your work is everything a designer could want from a marketplace.
The Power of Community
One of the common threads of each of the marketplaces above is their reliance on a community. The strength of these virtual places, and the work they produce, is what keeps them going. The stronger the community, the bigger potential audience you'll find.
In that way, deciding where to sell your own work is just as much about deciding which community is the best fit as it is about profits. Fortunately, there are a lot of high-quality options for just about every designer!
https://www.primarytech.com/wp-content/uploads/2013/04/PrimaryTechnologies-Logo-new1-300x144.png
0
0
admin
https://www.primarytech.com/wp-content/uploads/2013/04/PrimaryTechnologies-Logo-new1-300x144.png
admin
2019-06-05 15:00:02
2019-06-05 15:00:02
How to Find a Marketplace to Sell Your Designs