What's Worth Preserving? Chicago Design Museum's Heartfelt Book Project
Original Source: http://feedproxy.google.com/~r/abduzeedo/~3/iUJ66OTohdU/whats-worth-preserving-chicago-design-museums-heartfelt-book-project
What's Worth Preserving? Chicago Design Museum's Heartfelt Book Project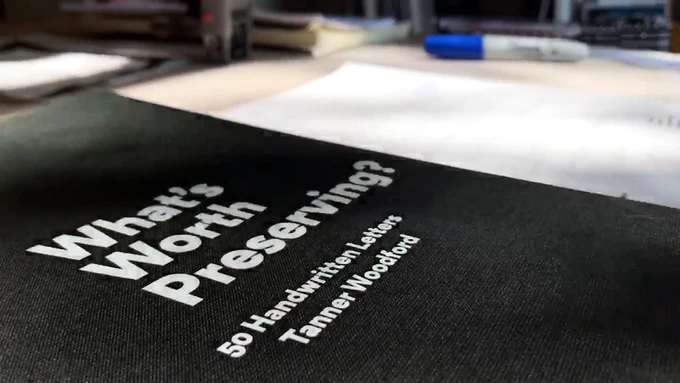 ibby
Sep 28, 2017
We love Kickstarter almost as much as our morning Cup of Jo so upon discovering this heartwarming project by Chicago Design Museum's Founder and Executive Director Tanner Woodford we just had to share with our readers in hopes we could help bring it to life. My personal affection for handwritten notes and helping save this lost art is also a motivating factor for supporting this special cause. Over the past year, Tanner  has sent hundreds of letters to a variety of people across all walks of life. In it, he kindly asks the recipient to answer a broad question that traces back to the medium on which it was sent.
"What's worth preserving?"
Responses poured in. Each was more interesting and profound than the previous, expressing its author's heartfelt, authentic and captivating thoughts through their handwriting. While the individual letters are fascinating, the sum of the portfolio is greater than its parts.
In an era of constant distractions, the process of writing a letter by hand serves as a reminder to breathe, and to be in the moment. Writing an answer to a thoughtful question promotes reflection. 
The book of 50 letters is the first edition. It's published by ChiDM, created by its executive director Tanner Woodford, edited by Christopher Jobson of Colossal, with a project video by Bowie. Thank you to Kickstarter for helping projects like this exist and please click on this link to help bring to life! 
People who have answered "What's worth preserving?" in their handwriting so far.
The first response came from Dave Eggers of McSweeney's and 826 Valencia, who suggested "it's worth preserving the knowledge that good design comes from good designers (not robots)" on a custom, hand-drawn letterhead.
Bestselling author Seth Godin sent a giant novelty post-it note with a short list on it that included both "lemons" and "giving a damn/making a ruckus."
Proceeds from sales of this book support ChiDM, a 501c3 non-profit organization that strengthens design culture and builds community. For ChiDM, the book is a critical step in a broader effort to promote cultural discourse, preserving ideas alongside those that have them. 
Tanner Woodford
kickstarter
What's Worth Preserving?
https://www.primarytech.com/wp-content/uploads/2013/04/PrimaryTechnologies-Logo-new1-300x144.png
0
0
admin
https://www.primarytech.com/wp-content/uploads/2013/04/PrimaryTechnologies-Logo-new1-300x144.png
admin
2017-09-28 08:30:02
2017-09-28 08:30:02
What's Worth Preserving? Chicago Design Museum's Heartfelt Book Project