The 3 Best Project Management Tools For Freelancers In 2022
Original Source: https://1stwebdesigner.com/the-3-best-project-management-tools-for-freelancers-in-2022/
If you are a solo freelancer, running your own business with a team of one, you may not think you need a professional project management system. After all, you don't have a team to keep track of, communicate with, and make sure you're all working together on the same page – it all comes down to you and only you! However, that is exactly why you need a place to keep your projects organized. As a freelancer, you wear so many hats – salesperson, project manager, client communicator, accountant, bill collector – and on and on. Every freelancer can use all the help they can find to simplify and consolidate all of these tasks as much as possible, which is where a good project management tool can be lifesaving.
The Freelance Designer Toolbox
Unlimited Downloads: 500,000+ Web Templates, Icon Sets, Themes & Design Assets
All starting at only $16.50 per month


DOWNLOAD NOW
Once you've agreed that you need one, finding the right project management tool can be a daunting task. That's why we've gathered some of the best options available right now to save you some of your valuable time. What follows are some of the best project management tools for freelancers we've found that you can start using right now, with either free or very affordable pricing.
Kosmo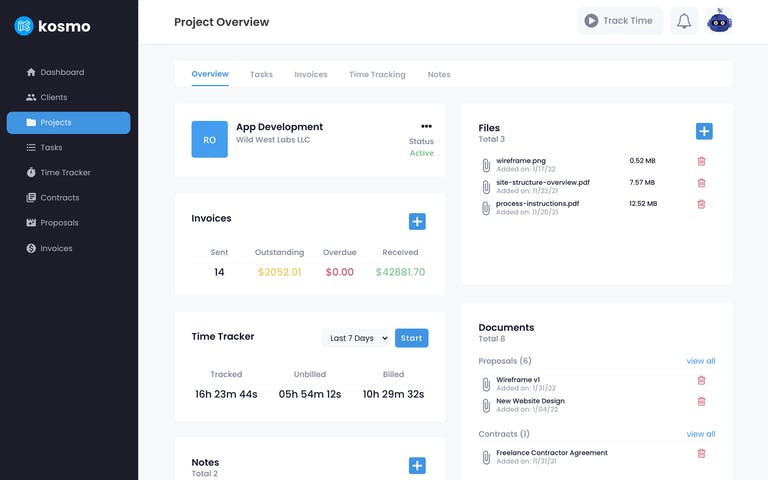 Kosmo purports to be the best tool to manage clients, projects, invoicing, proposals, contracts, payments, and more, all in one place! It really sounds to good to be true, but based on our research, it actually is.
Features:
Unlimited clients with contact information, related invoices, and projects
Unlimited projects with goals, files, notes, and more
Unlimited branded invoices
Unlimited proposals and contracts that can be digitally signed
Accept online payments via credit card, ACH transfer, Stripe, and PayPal, with payment tracking and reminders
Time and task tracking that can be added to invoices easily
Trackable income goals
Recurring tasks
Branded emails
Reminders
For an overview of how it all works you can watch their excellent video.
Pricing
Here's the best (and almost unbelievable) part: all of these features are absolutely free! We don't know how they can offer this robust of a project management system for no cost to the user, but they do! The only way you will pay anything is if you want to remove the Kosmo branding and get priority support, which is also very affordable at a cost of $9 per month, and that plan is not even available yet. Still, you can utilize all of their features with your own branding and without limitations 100% free.
Conclusion
Honestly, we've never seen a free or even paid project management tool that incorporates all of these elements into a single system, much less do it so well. It's seamless, intuitive, beautifully designed, and a huge time saver. To be clear, this is not a sponsored post, nor are we receiving any affiliate commissions or any other incentives to rave about Kosmo as much as we are – it's simply too good to not share! The only caveat we can come up with is that it is a very new tool, so there will be more to come as it gets discovered and grows, but we can't attest to its longevity at this point. That said, we're already moving our projects into Kosmo as of this writing, so we can move away from using a variety of separate tools and apps that don't necessarily integrate well together. In our opinion, Kosmo is the best project management tool for freelancers that is available right now.
ClickUp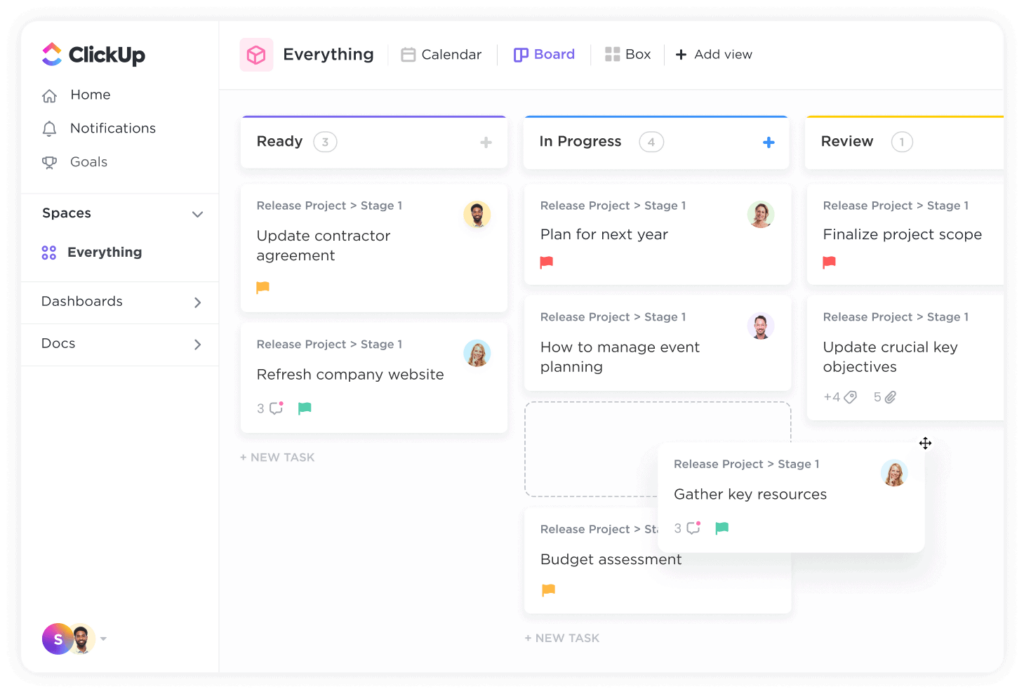 ClickUp says it is "one app to replace them all", and it doesn't look like they are kidding! Projects and tasks, chat with clients and team members (if you have a team), goals, and customizable views are just a few of the features they offer yet another well-designed package. ClickUp is a much more complex system than Kosmo, which may or may not be suited to your needs, but if you want a vast amount of features and granular organization and control of every aspect of your work, then ClickUp may be a great tool for you.
Features and Pricing
Honestly, there are way too many features to list here, but you can check out their features page to view them all. here are some of the top level items available in the Free plan to give you an idea.
100MB Storage
Unlimited Tasks
Unlimited Members
Two-Factor Authentication
Collaborative Docs
Whiteboards
Real-Time Chat
Email in ClickUp
Kanban Boards
Sprint Management
Native Time Tracking
In-App Video Recording
24/7 Support
From there, you can upgrade to the Unlimited plan for only $5 per month, which includes everything in the Free plan, plus the following:
Unlimited Storage
Unlimited Integrations
Unlimited Dashboards
Guests with Permissions
Unlimited Gantt Charts
Unlimited Custom Fields
Teams (User Groups)
Goals & Portfolios
Form View
Resource Management
Agile Reporting
Conclusion
ClickUp is a massive, robust project management tool that rivals those used by large businesses, and, in fact, it has plans available to accommodate such use cases. For solo freelancers this may be too much, but if you are someone who really likes to dig deep into your project management, planning, and organization down to the finest details, then ClickUp could be your solution. We couldn't find any invoicing or payment options, however, so if you're looking to include invoicing in your project management tool, then ClickUp may not be right for you. Otherwise, for the highly detail-oriented freelancer, ClickUp offers just about everything you could possibly need at a very affordable (or even free) price!
Hectic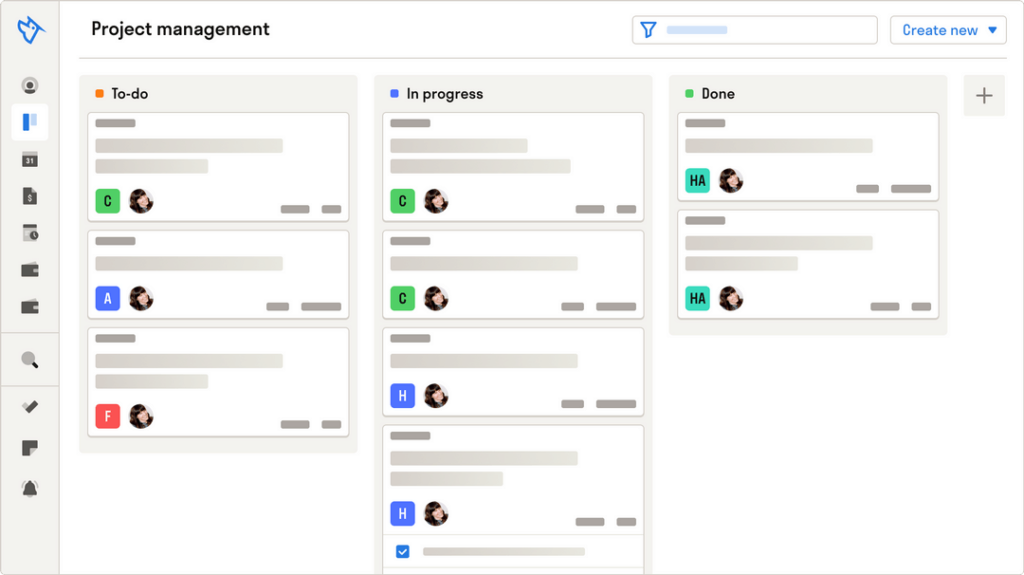 Hectic is another app that is similar to Kosmo, designed specifically for freelancers with a feature list to manage and grow your business in one place. Client management, proposals and contracts, accounting, invoicing, time tracking, a client portal, a mobile app, and more make Hectic an appealing project management solution.
Features and Pricing
The "Free forever" plan offers pretty much everything you need to get started, without any limits and the ability to upgrade as your business grows.
Unlimited clients
Client relationship management
Project management
Invoices & Subscriptions
Accept online payments
Proposals & Contracts
Expenses & Accounting
Forms
Time tracking
Calendar
iOS & Android apps
If you want or need even more features, the next tier costs only $11.99 per month and includes everything in the free plan plus:
Client portals
Custom domain & emails
Meeting scheduler
Sales pipeline
Collaborators
Automated expense tracking
Conclusion
Hectic looks to be a freelancer's project management dream. It is similar to Kosmo in what it has to offer, with additional features that may be more appealing to freelancers who need them. With all of this available for free or a low monthly price, it is easy to see why Hectic made our list.
Which project management tool is the best fit for you?
It's pretty obvious in which direction we lean as our top pick, but each of these three offerings are great choices. It really depends on what your personal preference and use case is, and determining which one of these tools will best fit. Regardless of which one you choose, we know that utilizing one of these project management tools will help grow and significantly improve your freelance business, so be sure to try and pick one to start wrangling your projects, clients, and entire business under control.
https://www.primarytech.com/wp-content/uploads/2013/04/PrimaryTechnologies-Logo-new1-300x144.png
0
0
admin
https://www.primarytech.com/wp-content/uploads/2013/04/PrimaryTechnologies-Logo-new1-300x144.png
admin
2022-04-21 16:00:02
2022-04-21 16:00:02
The 3 Best Project Management Tools For Freelancers In 2022