Stay Productive with These Web Apps
Original Source: http://feedproxy.google.com/~r/1stwebdesigner/~3/vaMIOPsk3VY/
When you're a freelancer, it's not always easy to stay on task. Without a real boss looming over your shoulder, you might find yourself posting on social media and watching YouTube videos five hours before the deadline hits. Even when you're doing your dream job, motivation can be hard to find.
Luckily, you don't have to do it alone. There are a variety of web apps out there designed to smooth out this process and make it easier to work consistently. These browser-based tools could be a godsend, so let's take a look at the best productivity apps designed for freelancers.
StayFocusd and LeechBlock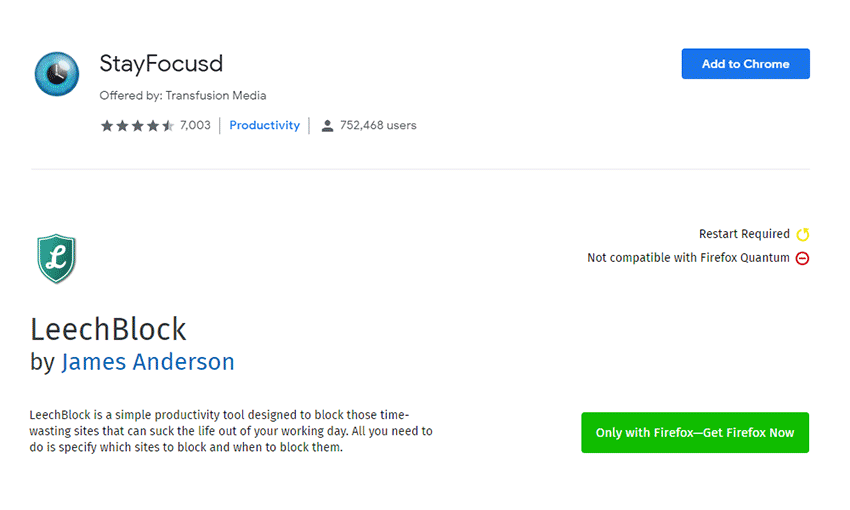 Whether you prefer Chrome (StayFocused) or Firefox (LeechBlock), the premise here is the same: Start blocking those sites notorious for sucking away your time! If you find yourself wasting hours on social media when you're supposed to be working, it's time to shut those sites off by force.
Both extensions are highly customizable and allow you to block sites at certain times of day, when you've spent a certain amount of time on them, and so on.
Trello
Sometimes you can get the greatest boost to productivity simply by staying organized. Trello allows you to create "boards" for each of your projects, further creating individual cards within them. You can even add checklists, categories and other little tools to each card. It's designed for teams, but it's also great for keeping those personal projects organized.
TickTick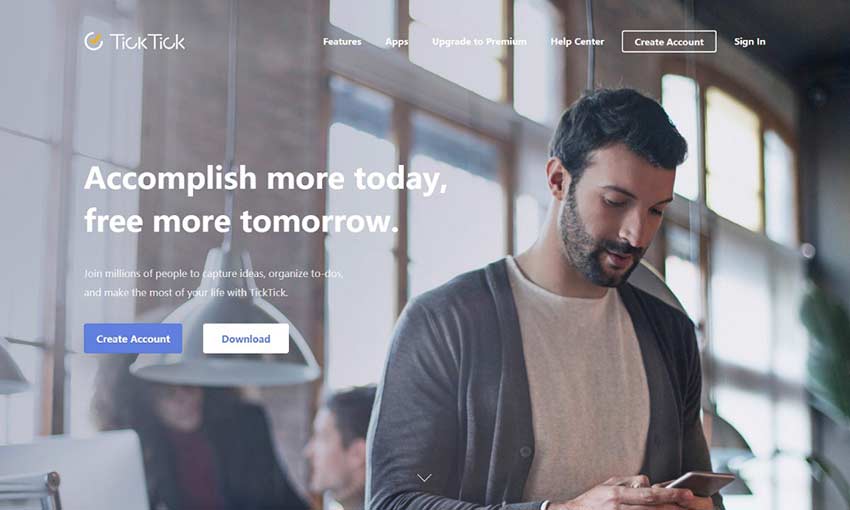 For many, nothing is more satisfying than ticking off boxes on a checklist. The multi-device app comes with all the basics of a checklist app and more. From reminders and scheduling to priorities and tags (and turning emails into tasks). You can even work with your team on a checklist.
Focus Booster
Focus Booster uses the pomodoro technique to keep you focused but fresh, with mini-timers that allow you to work in sessions with frequent breaks in between. If you struggle to stay focused after an extended time, this technique is perfect for you. You can download Focus Booster, use it on the web, or install the mobile app.
Habitica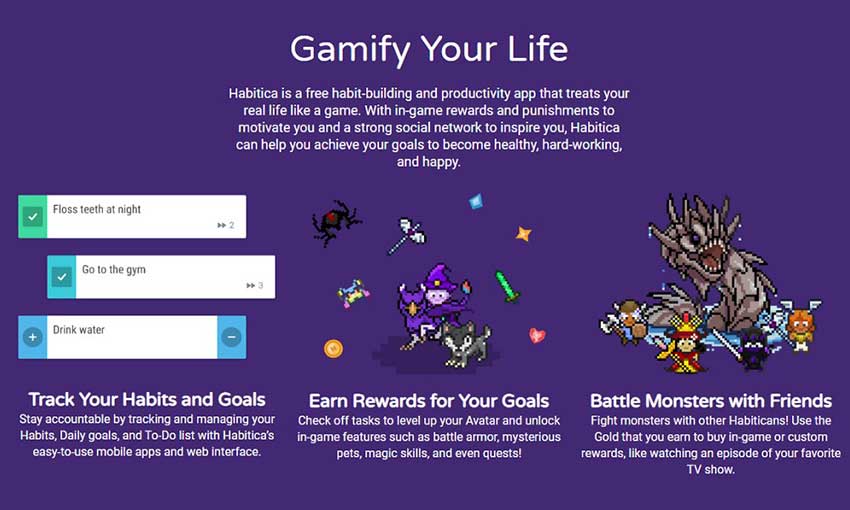 If you love video games, Habitica might be for you. "Gamify your life" by turning your tasks into quests, and get showered with gold and XP when you do something productive. Then use it to customize your avatar. There are no rules – just set up your tasks, set the difficulty and get rewarded.
RescueTime
Where have all those hours gone? RescueTime runs in the background, tracking what apps you're using and the websites you spend your time on, then compiles it into a report. It can be eye-opening to realize how long you spend being unproductive. But once you know, you can take steps to stop wasting so much time on certain websites.
Basecamp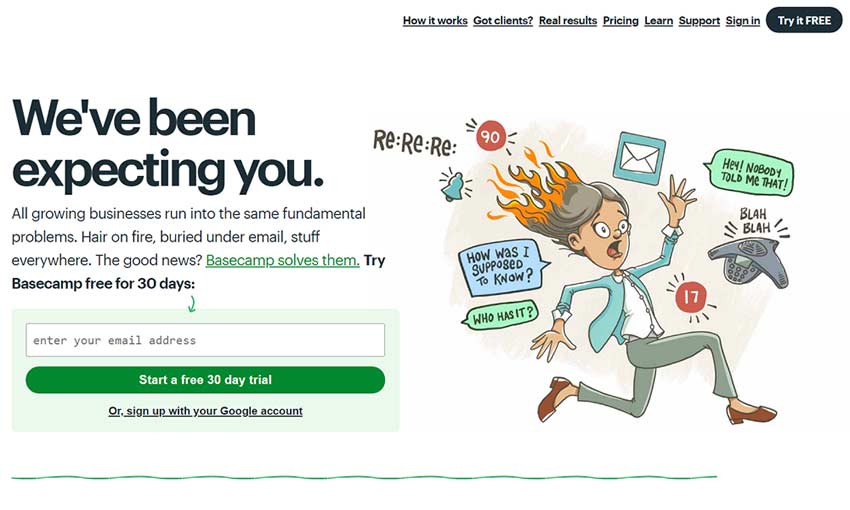 If your whole team is having trouble with focus, Basecamp might be the solution. The app allows you to assign tasks to people, communicate effectively with everyone, and organize all your tools and files in one place. There's much more to it, but that's the basics. No more communicating and sharing files through email chains, or wasting time explaining things over and over again.
Brain.fm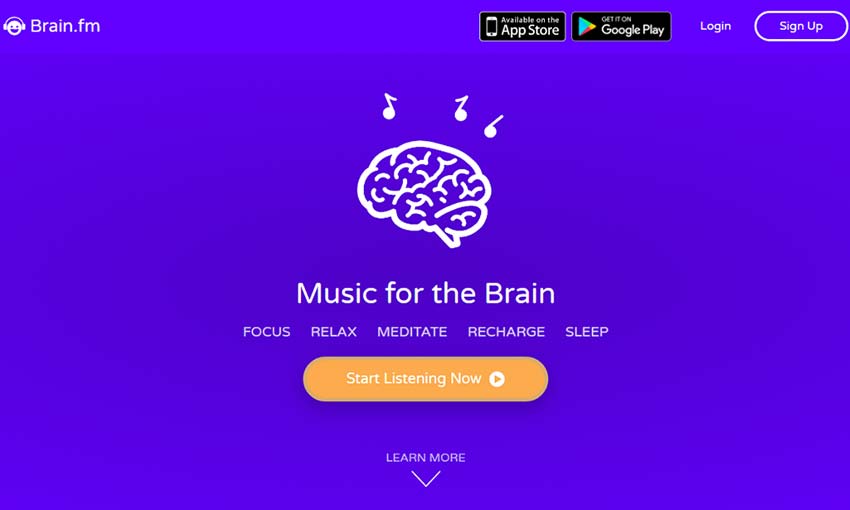 This is an interesting one. Brain.fm uses AI-composed music to help you relax, sleep, or more importantly, focus. It does this by stimulating your brain in ways that their scientists believe can help boost attention. It's definitely worth a try!
Don't Fall Behind!
After spending your whole corporate life being told what to do, self-discipline isn't a skill you'll pick up right away. Don't feel bad if you're struggling, or if you simply need that small extra incentive to focus. These apps were designed to help people like you, so make use of them!
https://www.primarytech.com/wp-content/uploads/2013/04/PrimaryTechnologies-Logo-new1-300x144.png
0
0
admin
https://www.primarytech.com/wp-content/uploads/2013/04/PrimaryTechnologies-Logo-new1-300x144.png
admin
2019-03-13 19:00:07
2019-03-13 19:00:07
Stay Productive with These Web Apps