Original Source: http://feedproxy.google.com/~r/1stwebdesigner/~3/tiXnOsrCxWk/
If you're a regular online shopper, you've definitely come across pricing tables before. Pricing tables are an important feature of websites that sell online. These tables help customers compare product features and prices.
Pricing tables need to be simple and easy to understand because they help users make an informed buying decision. A lot of information is likely to overwhelm the customer while too little or unclear information can be ineffective.
Other benefits of pricing tables include:
Tables help remove unnecessary clutter.
They save on space.
Provide a clear call to action.
Can attract more clients and generate more sales.
Now, it is important to note that not all WordPress themes have pre-built pricing tables, so you might need to download a plugin to integrate this feature.
UNLIMITED DOWNLOADS: 1,500,000+ Icons & Design Assets
DOWNLOAD NOW
What To Look For In A WordPress Table Plugin
Before we get to the list, let's first pause to discuss what features are a must-have for any pricing table plugin you decide to use.
1. Pricing Table Templates
Look for plugins that offer several pricing table templates. This will help you in customizing your designs according to exactly what you're looking for.
2. Price
If your website is small and you're just looking for something simple, be sure to check the available free plugins before purchasing one. There are so many free plugins, many with a bunch of cool features.
3. Customization
You should look for a plugin that will allow you to customize your table according to your branding. That means custom colors, fonts, etc.
4. Integrations
Look for a plugin that can easily integrate with your WordPress theme so it works seamlessly.
WordPress Pricing Table Plugins
Below, we have identified some of the best pricing table plugins available and we hope you'll find one that best suits your needs.
1. Go Pricing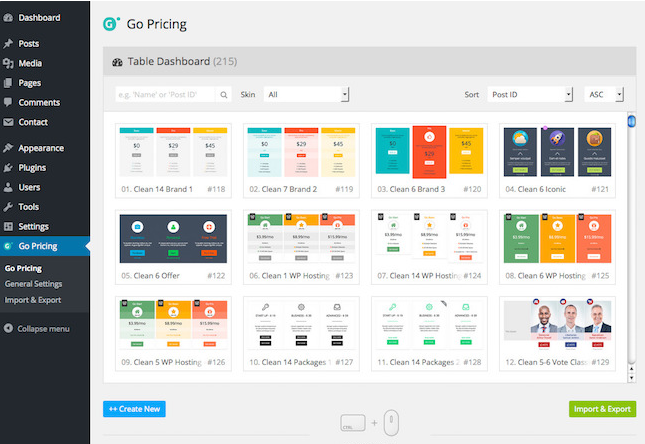 Go Pricing is a table plugin that offers you almost 200 table designs. Its modern and stylish features will help you create the perfect pricing table for your website.
The plugin will help you customize your table without having to code. This is perfect for someone who isn't familiar with web design.
It also offers you 200 templates, 2,000+ font icons, over 600 fonts, an unlimited color selection, modern media options, and more.
Some of its pros and cons include:
Pros
Has extensive customization options and is feature-rich.
Has a live preview option that allows you to see how your table will look at the end.
Popular with page builders like Elementor, WP Bakery, and Beaver Builder.
Has a column animation feature.
Cons
You have to be on a paid subscription to download table templates.
2. Responsive Pricing Table

Responsive Pricing Table is a free WordPress plugin that has a shortcode that allows you to show your table anywhere on the website. It adds a pricing table tab in the admin section which makes adding a pricing table easy.
With the many features it offers, you're able to: add different colors to your table, choose unique fonts, and more.
Some of its pros and cons include:
Pros
Easy to create and customize.
Can be used to compare products.
You can change the currency sign.
You can highlight any plan.
Cons
Poor customer support.
3. CSS3 Responsive WordPress Compare Tables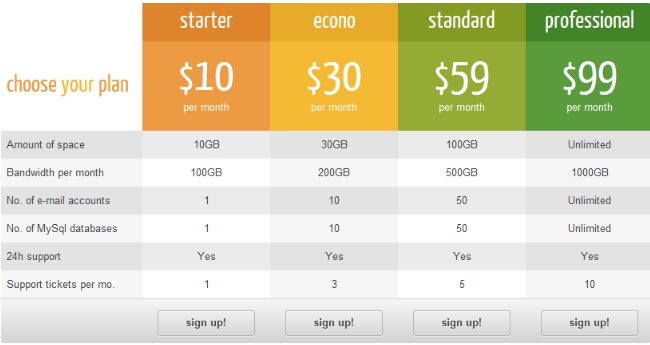 The CSS3 Responsive pricing table is a premium plugin with several customization features. It comes with two table styles and 20 predefined color options.
It also offers a number of features that will help you create the best tables for your site such as hover animations, pop-ups, and ribbons. This plugin is perfect for creating beautiful pricing tables.
Some of its pros and cons include:
Pros
Allows you to see your changes in real-time.
Can highlight columns and customize fonts.
Cons
You need CSS if you wish to access more customization features.
Comes with only two table styles and 20 color themes.
Can be time-consuming to set up.
4. ArPrice Pricing Tables

This is a free and premium WordPress plugin that allows you to make responsive pricing tables that can be used on multiple devices. Some of its features include the ability to create an animated pricing table.
With ArPrice you have a selection of over 170 already made templates to choose from. You can also use the drag and drop editor to adjust and resize columns as needed.
ArPrice has a real time editor feature that will make the customization of your site easier.
Some of its pros and cons include:
Pros
Allows language translation.
It's lightweight.
Easy to use.
Offers a variety of colors.
Cons
Can be slow at times.
5. Easy Pricing Tables

Easy Pricing Tables is a WordPress plugin that lets you create your tables with ease. The plugin is easy to use and gets the job done quickly. It includes predefined colors and themes. With this plugin you get 120+ ribbons, a live preview, 100+ content elements, and more.
Some of its pros and cons include:
Pros
Easy to use.
Has the drag and drop feature.
Gutenberg compatible.
Compatible with all WordPress themes.
Cons
No cons found.
Best Pricing Table Designs
So, you now know about a few pricing table plugins that can help you display pricing information in a straightforward way. But if you're stumped on design inspiration, we've compiled a shortlist of some top designs to add some fuel to your design fire.
1. Shopify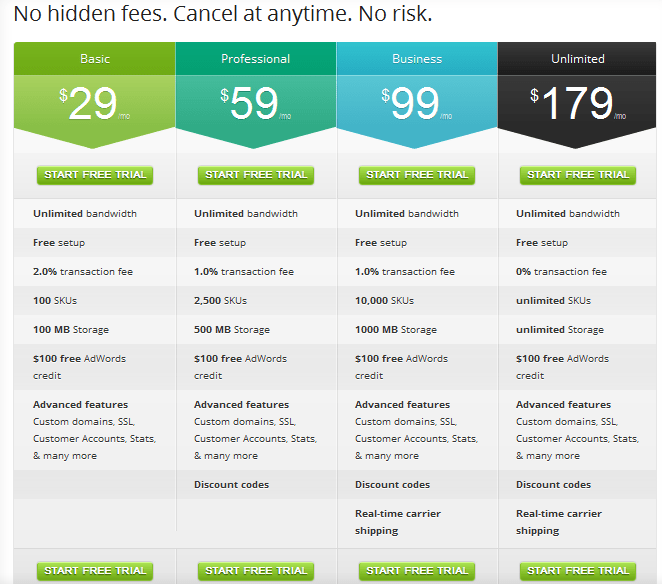 The Shopify pricing table is one of the best around because its layout makes it easy to compare different plans. And the prominent Free Trial buttons encourage conversions.
2. Dropbox
The Dropbox table layout makes it easy for buyers to compare pricing and features. This helps users get to know what exactly they are purchasing and decide on what works better for them.
3. Slack
Slack's pricing table uses different colors to highlight different available plans. This makes the table more eye-catching and is likely to grab the customer's attention. Each plan comes with a description of how they are billed and also includes a call-to-action.
4. Airtable
Airtable is another great example of a pricing table that uses colors to grab attention. It has a simple design that draws focus to the features available on each plan.
There's also a monthly or yearly option at the top of the table that helps you select your preferred plan.
5. LightCMS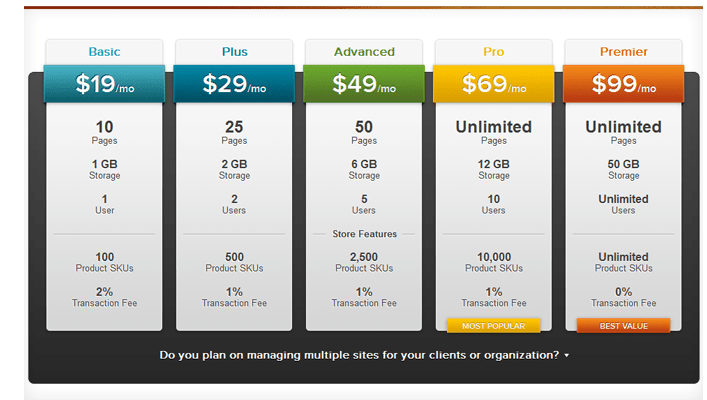 LightCMS is another great example of a well designed pricing table. They have incorporated different colors to grab attention and to highlight the different available plans. They've also used different font sizes for comparison.
Conclusion
A well designed pricing table is likely to grab the consumer's attention. If you're looking for a good pricing table for your website, we hope this list of plugins and designs has helped you figure out what will work best for your site. Best of luck! Be sure to check out our other articles about WordPress plugins while you're at it.
https://www.primarytech.com/wp-content/uploads/2013/04/PrimaryTechnologies-Logo-new1-300x144.png
0
0
admin
https://www.primarytech.com/wp-content/uploads/2013/04/PrimaryTechnologies-Logo-new1-300x144.png
admin
2021-10-29 13:00:03
2021-10-29 13:00:03
Pricing Tables: Best Designs and WordPress Plugins