Original Source: http://feedproxy.google.com/~r/CreativeBloq/~3/ldEacFWS9yM/illustrator-ipad
Adobe has announced that Illustrator on the iPad is in the works. While this dedicated tablet version is still in its early stages, it's very exciting news for designers. The tool is currently in exclusive private beta (read on to find out how to sign up for early access), and there's no confirmation of when the first market version will be released, although it won't be this year. 
The announcement was made at Adobe MAX 2019, where we were treated to an early preview of the tool, It forms part of a welcome shift in focus from Adobe to improving its iPad tools – we have just heard that the first version of Photoshop on the iPad has finally been released, and Adobe also recently added dedicated iPad painting and drawing app Adobe Fresco to its suite of creative tools. 
Will Illustrator for the iPad be joining our ranking of the best iPad apps for designers? Well, the preview certainly looks impressive. We don't know too much right now (we'll be updating this article over the course of the conference as we get more information), but what we do know is that Adobe is that the tool will be rebuilt from the ground up to take advantage of touch capabilities and the possibilities offered by the Apple Pencil.
If you've been holding out for a iPad Black Friday deal but you've been on the fence, this could be the incentive you need to click 'add to basket'. And if you're thinking of purchasing Creative Cloud, you may also want to keep an eye on our Adobe Black Friday deals page.
What features will Illustrator on the iPad have?
The tool is still in its early stages, there are some key features being worked on that we can be fairly confident will appear in the launch version. To start with, Adobe promises seamless connection across devices, with no loss of detail. So you'll be able to pick up your desktop Illustrator design and work on it on your iPad while you're out and about, saving your changes to the cloud.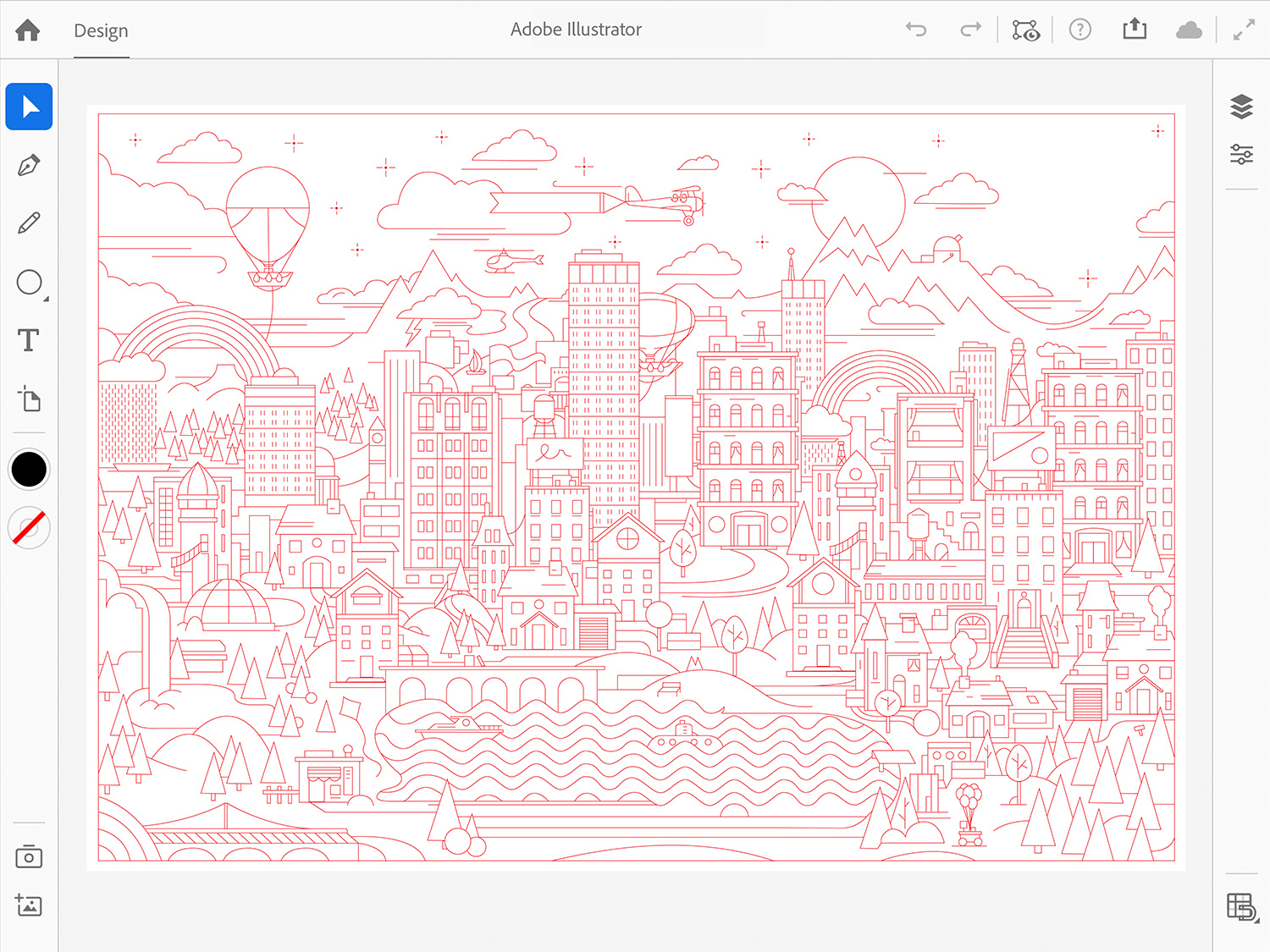 Adobe is working on how to use the iPad camera and Apple Pencil to open up new possibilities
Adobe also says the tool will be powerful and precise, so you'll be able to use it to create complete illustrations, from start to finish. However, the first version of Photoshop on iPad is not a complete version, so we expect this full-fat iPad version of Illustrator might also take a while to materialise.
Illustrator on iPad will make the most of the possibilities offered by tablets specifically. Adobe is working on how to incorporate features such as the integrated iPad camera and Apple Pencil to open up new design possibilities. For example, you might be able to take a photo of a hand-drawn sketch, and use Illustrator on iPad to turn it into vector shapes. We're interested to see how this concept shapes up.
Sign up for private beta
A dedicated tablet version of the software is overdue, and Adobe promises a tool that brings the precision and versatility of the desktop experience to the iPad. Adobe is working with the global Illustrator community to develop the tool. It's currently running an exclusive private beta, which you can sign up to here. Read more on the official Adobe blog.
Relates articles:
The best Adobe Illustrator plugins 2019Illustrator tutorials to sharpen your skillsThe best alternatives to Photoshop

https://www.primarytech.com/wp-content/uploads/2013/04/PrimaryTechnologies-Logo-new1-300x144.png
0
0
admin
https://www.primarytech.com/wp-content/uploads/2013/04/PrimaryTechnologies-Logo-new1-300x144.png
admin
2019-11-04 18:00:02
2019-11-04 18:00:02
Adobe Illustrator on the iPad is on its way