6 Drag-n-drop Email Builders to Speed Up Email Production
Original Source: https://www.hongkiat.com/blog/drag-drop-email-builders/
Take a few moments to think and count down the approximate time your team spends on email production. What results have you got? Days, maybe even weeks?
As Litmus' research shows, companies spend huge amounts of time producing an email:
Only 20% of teams created an email within a few days or less;
44% needed from 1 to 2 weeks to create an email;
22% of teams spent from 3 to 4 weeks per email.
In 2023, we can't afford to waste so much time and resources anymore. If a company wants to survive, it needs to find a way to create emails faster and make them cheaper without losing quality.
Why Does Email Production Take So Long?
Email production is a complex process, so let's break it into steps to estimate the amount of work and understand how to optimize each of the stages:
Pitching and developing an idea/brainstorming. At this step, a team creates an outline for a future email template. The average amount of time spent during this stage is about 3.5 hours.
Writing a copy. To craft a beautiful email copy, an average team spends 3-4 hours, but in 15% of cases, it takes 5+ hours of copywriters' work.
Email design & coding. This is one of the longest stages and, as Litmus shows, in 10% of the cases email design and coding take more than 9 hours of work each. Imagine how many resources you would have if you could speed up this stage at least by half.
Review & approval. Litmus' research states that in 2021, 62% of respondents preferred email threads or comments to discuss project details, and 38% of people preferred to discuss such things in person or using video calls. At the same time, 45% of respondents described the review and approval process as either too burdensome or too lax.
What Can We Do to Save Resources?
Here are some of the probable solutions.
Use collaboration tools (like Figma) to work and discuss project details in one place. It's much more convenient than using email threads because your message won't get lost or overlooked. Besides, you can leave comments right next to the email parts you want to get changed, so it'll be easier to understand what you're talking about.
Use AI. If you want to speed up copywriting or design, you can use platforms like ChatGPT or Midjourney. Of course, you shouldn't blindly rely on what AI creates for you, as these platforms are far from perfect (at least for now). However, they may give you a nudge in the right direction and be a great basis for your email.
Use drag-and-drop email editors. Such platforms allow you to build emails from pre-made blocks without having any coding skills. Besides, you can style the templates to your needs, thus spending less time on email design and coding. That's why drag-and-drop email editors are gradually becoming a must in email production.
Today, both agencies and individual companies use email builders more and more often (because they help to save money, time, and human resources). But the world of email builders is growing really fast: some of them are more suitable for freelancers, some of them would be better for small and mid-sized businesses, and others would suit large enterprise companies only.
Let's take a look at various types of drag-and-drop email editors to understand which one will be the best for you.
Boost Your Email Marketing with Drag-and-Drop Editors
To help you make the right decision, we've tested six no-code drag-and-drop email editors and analyzed their killer features along with the prices.
No matter whether you're a solo player, a small or a large team, you'll find the solution to suit your needs here. Let's go.
Blocks

Blocks is a no-code drag-n-drop email editor, and its features and pricing plans are suitable for individuals, small teams, and large companies alike.
Blocks' features
Blocks allows you to use ready-made templates from a template gallery or build one yourself with the help of various structures and elements.
Apart from the template gallery, Blocks also offers its users:
Clean code: Unlike some of the editors, Blocks' code has no unnecessary elements in it.
Collaborative work: You can add team members to a project, assign roles, and share ideas within the editor.
Modular system: You can add, change, and switch pre-saved parts of the template.
Mobile-friendly emails: Your templates will look equally good on mobiles and computers.
Image hosting.
Blocks also allows its users to export templates to ESPs and marketing automation platforms that support HTML without any restrictions.
Block's price:
Pricing plans: From $0 to $95 per month.
The price is usage-based, and there are four pricing plans to choose from: Free, Personal, Advanced, and Pro. The difference is in the number of users, projects, and email templates you can create per month. If you like this software and decide to use Blocks in the long run, you can switch to annual payment and save up to 16%.
All the essential features are available in the Free plan, and credit card details are not required. However, the number of users, projects, and templates per month is restricted. If you want to work together with your team members or send 10+ emails a month, consider choosing a different pricing plan.
Topol.io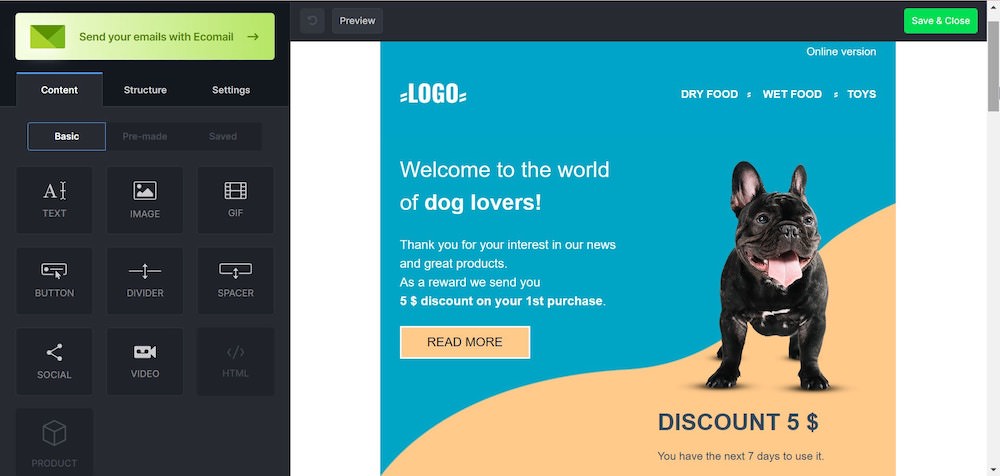 Topol.io is a no-code email builder that is convenient both for personal and collaborative use.
Topol.io's features
Here are some of the features I like:
Templates can be exported to the most popular ESPs directly from the editor. If your ESP is not on the list, you can export the template as an HTML file.
Free image gallery with stock photos from Pexels.
Real-time collaboration with your colleagues.
Pre-made and saved blocks: in the paid plan, you can customize blocks you often use and save them for later projects.
Topol.io also offers a template gallery: some of the templates are free, and others are available in the Pro version. You can edit a free email template even without creating an account. However, some of the functions are not available in the free version. Another drawback is that you have to sign up for Topol.io's newsletter to download the template.
Topol.io's price:
Pricing Plans: From $0 to unlimited per month.
The price depends on the number of users and the number of features you need. The free plan doesn't allow you to use premium templates, pre-made, and saved blocks. The main difference between the Pro plan and the Team plan is in the number of users; all the other functions are the same. There's also a 14-day free trial to help you understand whether this tool suits your needs.
What can be inconvenient for some users is that no matter what pricing plan you use, only 5GB of data traffic is included by default. If you exceed the limit, you'll have to pay extra.
Stripo

Stripo is an email editor that is best known for its template gallery, which offers over 1200 ready-to-use email templates for various industries and events.
Stripo's features
Stripo offers plenty of functions for fast email production, including:
AMP emails, which allow you to make your content interactive;
Responsive design that is turned on by default to ensure your emails look great on any device;
Custom modules for further usage.
Stripo offers integrations with over 75 ESPs, including HubSpot, ActiveCampaign, Mailchimp, Klaviyo, Oracle Eloqua, Salesforce Marketing Cloud, and others. However, if your ESP is not on the list, you may face some problems as Stripo adds custom code elements to the templates.
Stripo's price:
Pricing Plans: From $0 to $95 per month.
The price depends on the number of users, exports per month, and daily test emails. The Pro plan includes 10 users, but you can add more users at an additional price.
If you choose a free plan, you won't have access to premium templates and won't be able to share preview links. However, other features are available with some restrictions.
BEEFree

BEEFree is a no-code email and landing page design builder.
BEEFree's features
One of the most unique features available to BEEFree users is the ability to convert an email template into a landing page (or vice versa) in just a few clicks.
In addition to this feature, BEEFree also offers its users:
Collaborative mode for you and your colleagues
Various export options: copy and paste HTML code, download as a zip file, convert to PDF, export to Mailchimp, ActiveCampaign, etc.
Custom fonts, merge tags, and special links to help your emails stand out
A collection of over 1200 HTML templates and 300+ landing page templates that you can use as a basis for your own emails and pages
BEEFree's price:
Pricing Plans: From $0 to unlimited per month.
In the free plan, you can create up to 10 templates or landing pages per month, so this plan is suitable if you don't create templates regularly.
The main features in the Team and Enterprise plans are the same. However, the Enterprise plan gives you access to premium support, multi-workspace, custom domains, and advanced user management.
If you want to try the Team plan, there's a free trial with no credit card required. With the Enterprise plan, the process is a bit more complicated: you have to request a demo and meet with the BEEFree team to discuss all the details and learn the custom price.
Stensul

Stensul is a no-code email builder that facilitates collaborative email creation.
Stensul's features
Stensul offers several functions that make it a convenient tool for creating email templates, including:
Various integrations that allow users to connect their email creation ecosystem in one place, such as Salesforce Pardot, Marketo, Liveclicker, Moveable Ink, Microsoft Teams, Slack, and more;
Real-time collaboration;
Dynamic and live content that can be previewed before sending an email;
Drag-and-drop email creation that enables users to create emails without any coding skills.
Stensul allows users to create on-brand emails that comply with guidelines.
Stensul's price:
Pricing Plans: Custom
Stensul is enterprise-oriented, so it may not be suitable for small-sized businesses. However, if you're a large company, you may want to give Stensul a try.
The price depends on several parameters, and you can calculate the approximate price by providing the necessary information in the Stensul calculator, such as the approximate number of emails you create now and want to create in the future, and the estimated amount of time you spend on email production. However, to learn the final price, you need to contact the Stensul team and schedule a meeting.
Knak

Knak is a codeless email and landing page builder that can be a great fit for enterprise marketing teams.
Knak's features
Knak offers its users plenty of features to speed up the process of crafting emails, including:
MAP integrations with Adobe Marketo Engage, Eloqua, Pardot, Salesforce Marketing Cloud, Adobe Campaign, and more;
Live content and video integrations to make your emails more engaging;
50+ free responsive templates that can be used to create beautiful emails and landing pages;
A brand generator that automatically pulls brand assets into your templates.
If you're not sure where to start, you can visit the Inspiration Centre and browse some email templates created with Knak.
Knak's price:
Pricing Plans: Custom.
The platform is enterprise-oriented, so there are no clear pricing plans. To learn all the details, you'll need to schedule a call with Knak's team.
In my opinion, Knak wouldn't be a great solution for individuals and small teams. However, after signing up for the platform, you can access 50+ email and landing page templates for free.
Bottom Line
Email production is a complex process, and there are many approaches to optimizing it. Using drag-and-drop email builders can help your team save a lot of resources that would otherwise be spent on email coding and design.
Zero code is our new reality, and it is quite convenient. No-code drag-and-drop email editors can help you keep up with the times and stay ahead of the game. Choose the one that best suits your needs, and you're all set.
The post 6 Drag-n-drop Email Builders to Speed Up Email Production appeared first on Hongkiat.
https://www.primarytech.com/wp-content/uploads/2013/04/PrimaryTechnologies-Logo-new1-300x144.png
0
0
admin
https://www.primarytech.com/wp-content/uploads/2013/04/PrimaryTechnologies-Logo-new1-300x144.png
admin
2023-04-13 15:30:02
2023-04-13 15:30:02
6 Drag-n-drop Email Builders to Speed Up Email Production