Original Source: http://feedproxy.google.com/~r/1stwebdesigner/~3/ux–1aIjSVA/
SVG is the way of the future for vector graphics. You can use them to build anything from basic shapes to more complex icons that are fully scalable – without any quality loss.
But not every designer knows their way around Adobe Illustrator. It takes time to master the art of creating SVGs from scratch.
Thankfully, with these icon sets you don't have to master anything besides clicking a download button. All of these icon packs are 100% free and open source for use in any project. And many of them include other formats besides SVG – so they're great for all UI design work.
Jam Icons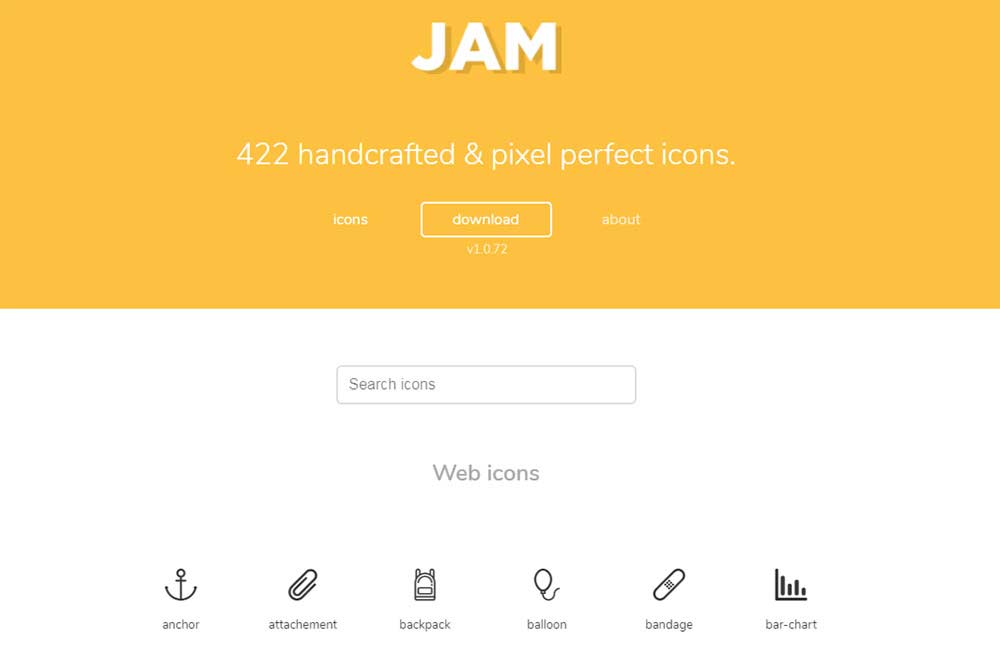 One of the newest and lesser-known icon sets is Jam Icons. This pack comes with 400+ icons (and counting). They're all designed in simple shapes with flat styles and basic color schemes.
As of this writing, the icon pack is in version 1.0.72 – but it's frequently getting minor tweaks and updates that include new icons. That wacky version number is a hint that this pack gets updated quite a bit.
Devicon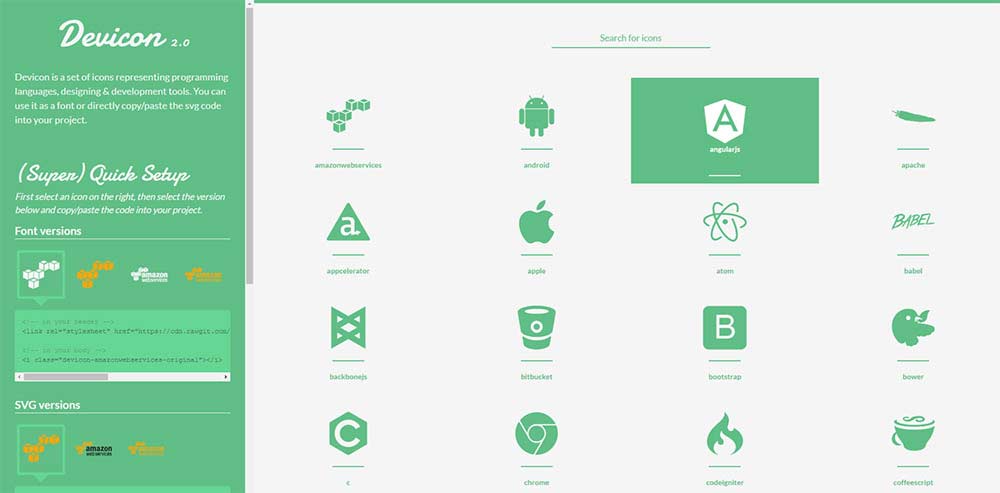 Here's another new icon set that I haven't seen mentioned too much.
Devicon is basically a pack of developer-themed icons that include logos from all of your favorite tech brands. The icons range from corporations like IBM and Google to more specific software like MongoDB.
All the icons come as SVG vectors or as icon fonts – so it's your choice how to embed them into your page.
Open Iconic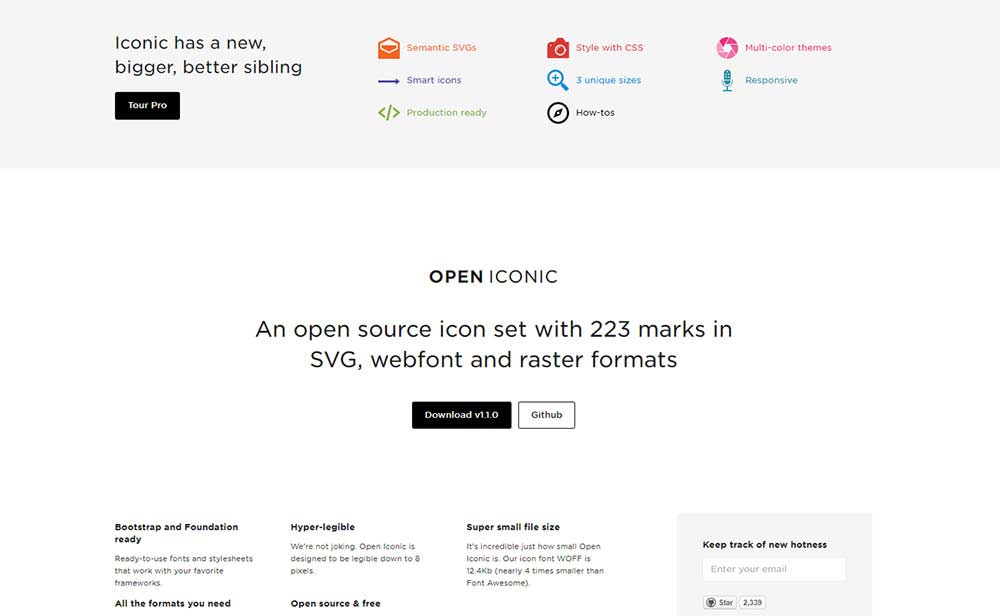 The Iconic icon pack has its own "open" version, with 220+ free icons available for download.
Again, these use a combo of flat design mixed with line icon styles to create a very simple aesthetic. They'll work on pretty much any website.
You can even download the icons as font files and merge them with major frameworks like Bootstrap. This is a fantastic choice for a simple and free SVG set.
Evil Icons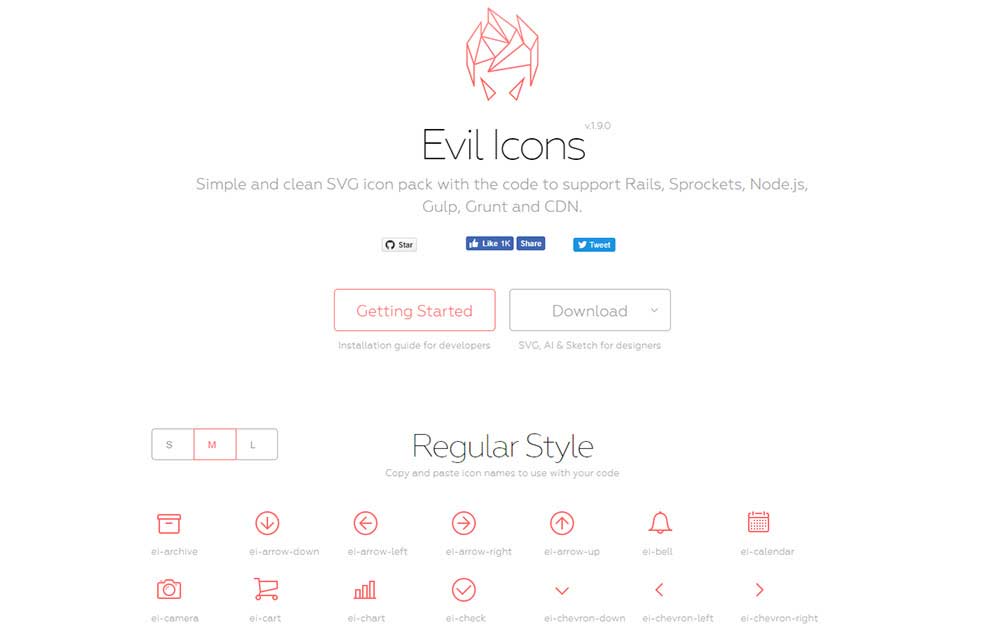 The oddly named Evil Icons should feel anything but evil.
This pack is absolutely massive and it comes with everything – including SVGs and the original source files. That means you can download SVGs along with AI files for Illustrator and the .sketch files for Sketch.
Every icon follows the thin line style and they're perfect for most websites. The fact you can edit the original source makes them even more valuable.
Twemoji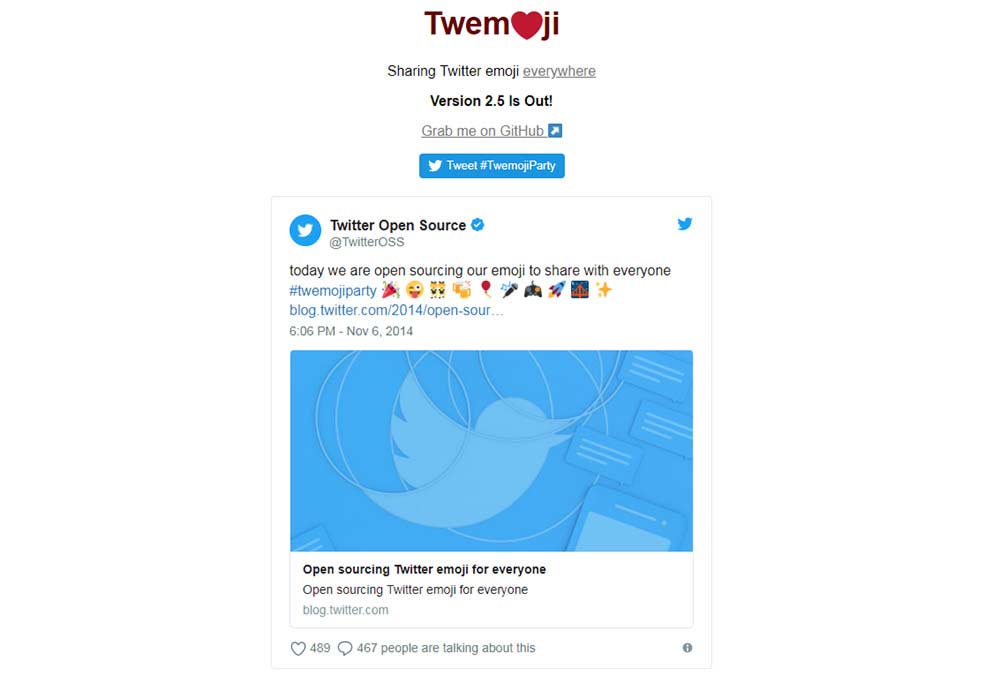 Twitter's emoji library is pretty big and they've got lots of cool stuff included.
Given Twitter's track record with open source, it's no surprise that they released Twemoji – their own proprietary emoji iconset, fully open-sourced online.
The library offers a massive 2,500+ icons in all. They include icon fonts and SVG files that you can edit on your own as you wish.
And there's so much variety here that you'll have plenty to choose from.
Metrize Icons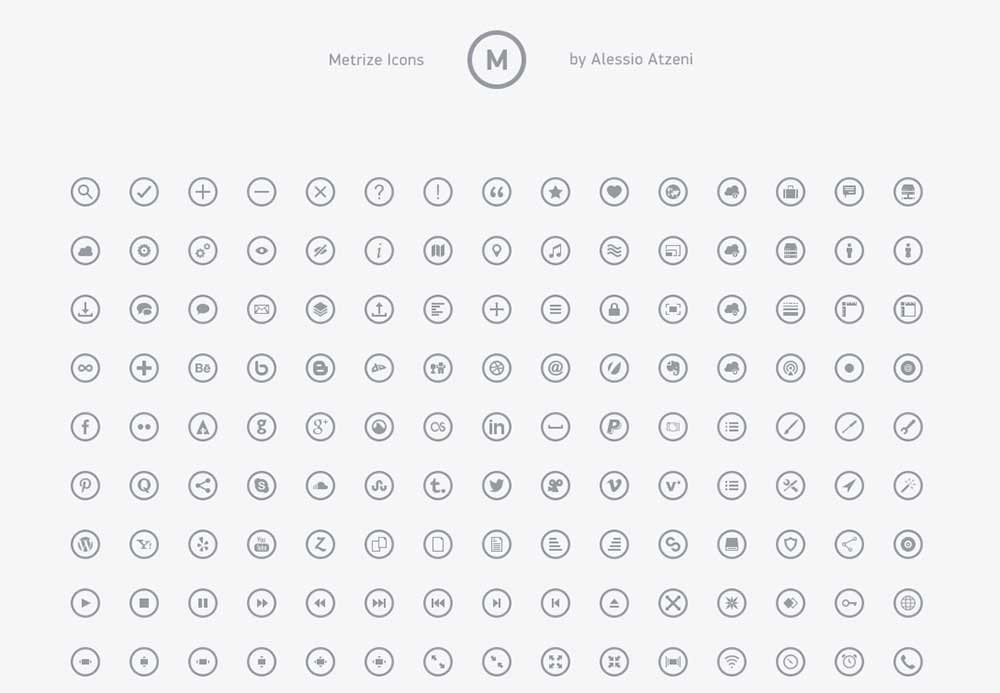 If you're looking for more metro in your design work, then your search is over with these Metrize icons.
They're open sourced and designed for easy editing. The pack includes 300 icons designed with circular borders, although you can easily remove them.
Ultimately, this was made to help anyone creating flat websites or following Microsoft's metro theme in website projects or mobile apps.
Captain Icon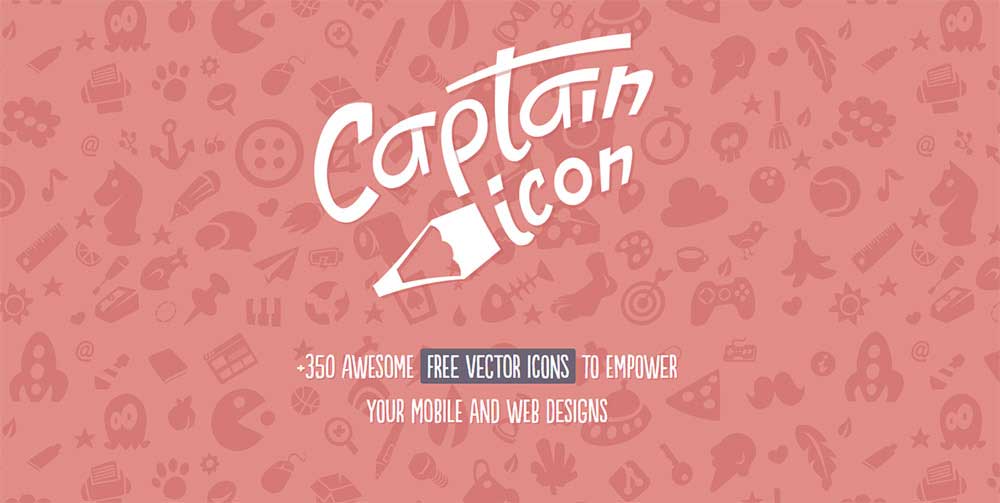 I first stumbled onto Captain Icon many years ago. To this day, it's still one of my favorite icon sets – I even use them in my own portfolio site.
Captain Icon is most practical as a simple icon font. But you can download the full pack, including SVG files to edit, customize and restyle to suit your needs.
What I like most about Captain Icon is the funky design style.
All of the icons look hand-drawn, which is really unique and valuable to anyone who wants to bring that style into their design.
Universal Icons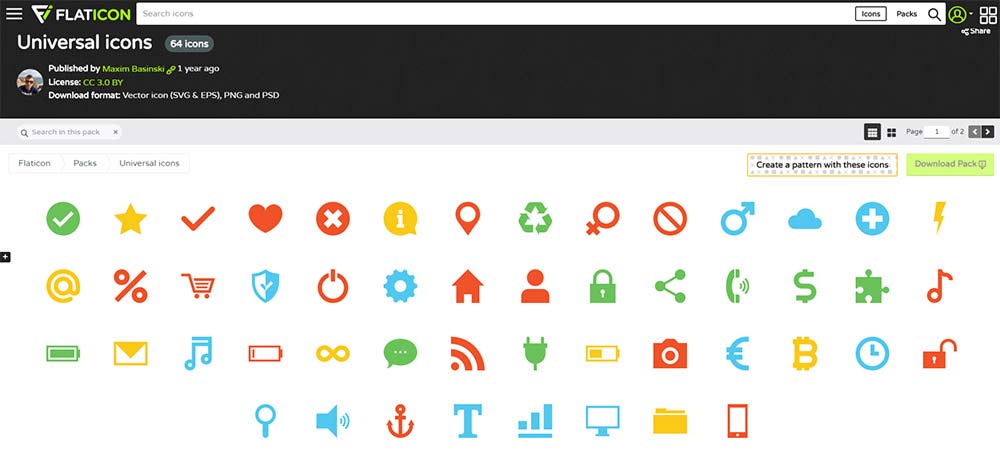 The Universal Icons were originally released for free through Flaticon. They're a search engine that curates free icons following the flat design style.
One thing to note about Flaticon is their stringent requirements. You have to create an account (free) to download the SVG pack. And, if you use them on a website, you typically have to credit Flaticon somewhere on your site.
This isn't too difficult, but it is worth noting before you publish anything.
But one look at these icons and you'll see why they're so valuable to anyone who wants a design that's simple, elegant and colorful.
Micon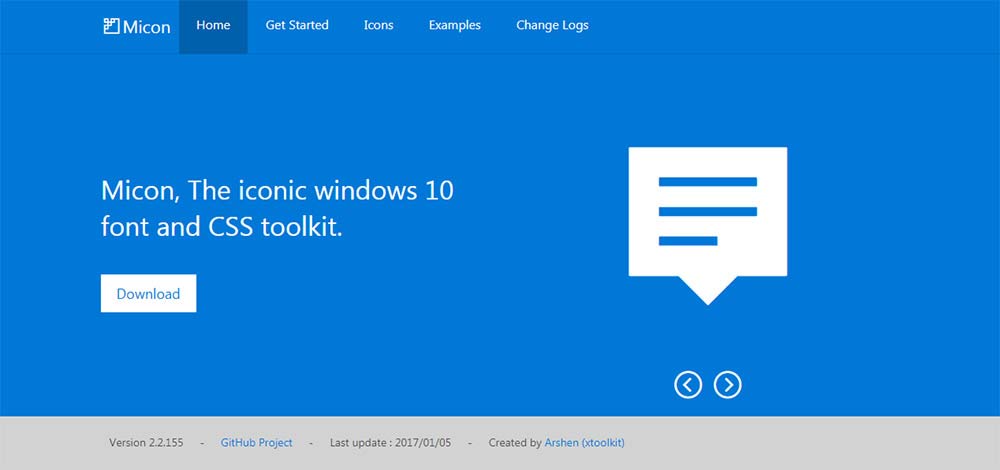 Here's another Microsoft-themed icon pack named Micon.
However, this one is focused more on Windows 10 icons—and they pack quite a punch. The design quality is on point and really phenomenal, despite the massive size of the library.
Micon is released for free on GitHub, so you can download everything from the site with a couple of clicks. You may want to have a look at their icon list first, just to see what's inside.
Feather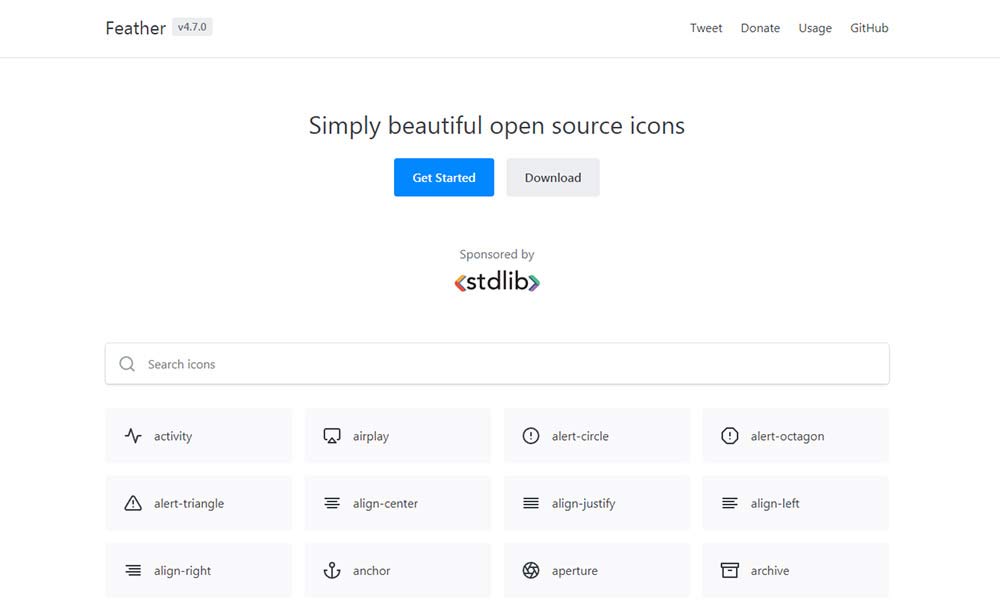 Feather icons are everything you'd want in a simple line icon set.
They're easy to edit, clean and crisp – regardless of size. Not to mention this was designed as an icon font first, so it's meant to be embedded as a web font.
But Feather's master download includes all of the icons as SVGs as well, in case you're looking to make some edits on your own.
Plenty of information is available on the GitHub repo if you would like to learn more.
Zondicons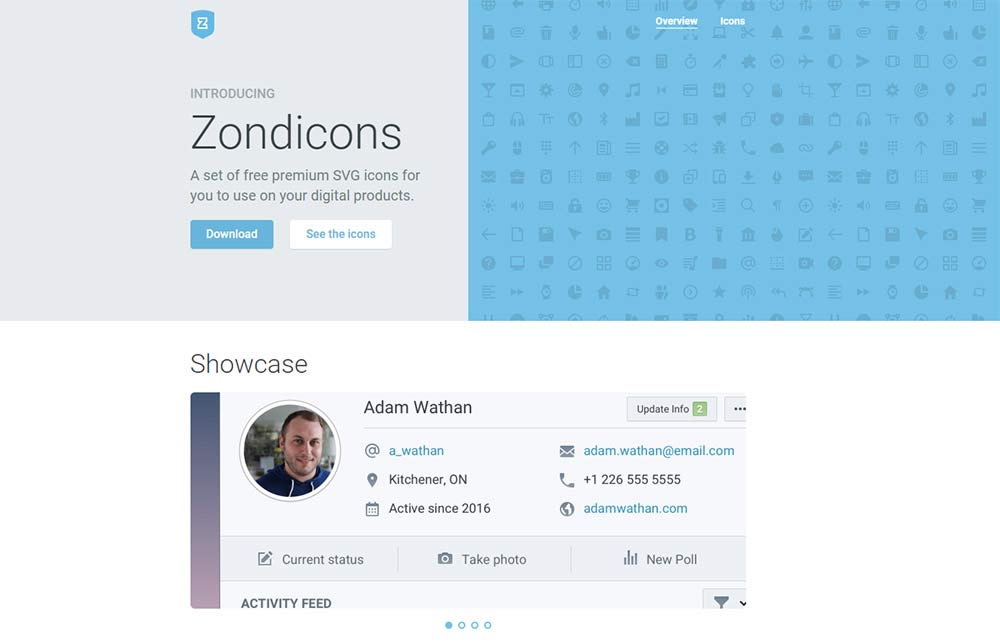 Zondicons markets itself as a premium set of SVG icons. I'd say that label is pretty accurate.
These icons include a mix of line icons and simpler flat icons with fill colors. They all come as SVG files and the full icon list is pretty massive.
One downside: these icons are not linked directly to GitHub. The website's download link pulls from a .zip file hosted on their servers.
I'm a fan of GitHub for centralization. That way, you always know when the files were last updated and what's inside.
This isn't a huge deal breaker, but it's something to note before you download.
https://www.primarytech.com/wp-content/uploads/2013/04/PrimaryTechnologies-Logo-new1-300x144.png
0
0
admin
https://www.primarytech.com/wp-content/uploads/2013/04/PrimaryTechnologies-Logo-new1-300x144.png
admin
2018-04-10 15:00:03
2018-04-10 15:00:03
11 Free SVG Icon Libraries and Icon Fonts